Save a Life Tofurkey Drive: Delivering plant-based(vegan) meals to people in need for Thanksgiving
2021 Update: Thank you all who requested a meal for our 8th annual event. Watch your email on Monday and Tuesday for instructions on when and where to pickup your meal. Be sure to check your spam folder too. Thank you again for choosing a kind meal this year. 

💗💗💗
Every November, INVeg provides vegan holiday meals to families in need. We want people to feel truly loved when they receive this feast. This event is supported 100% by the generosity of our local businesses & INVEG members.  All donations & sponsorships are tax deductible.
RECIPIANTS: After your apply, be sure to check your email near the date of the event. We do all of our communications through email due to the amount of people we serve. Pick up locations and times are sent via email near or on the day of the event. 
We do our best to fill ever request, so you do not need to wait for a response for us. We do not contact everyone until after the closing date, Monday the week of the event. 
Qualifications: Being a compassionate person/family who needs support to make Thanksgiving day special this year. We want to share with you this meal as a way to thank you for existing 🙂 You are helping us build a brighter world!
Changes:
Please only request if you have 3 or more in your party, if you are an individual, invite friends over to share in the feast. Thank you!
We only can deliver in the Spokane City region so we will need people to meet with our volunteers inside of city limits if you are outside of the limits. If you need special accommodations, please email use at tofurkey@inveg.org
We are asking people to pick up their feasts. If you are unable to pick yours up, please choose that option on the form.
Request a meal:
If you would like to request one of these meals please fill out our form with your name, how many people will be at your dinner feast and phone number. We will coordinate how to receive your meal on Tuesday the 24th and Wednesday the 25th of November. Please read over the inclusion list below and let us know if there is anything you do not want or need in the form.
Note: If we run out of meals, families with children receive first consideration.
Each meal will include:
Celebration Vegan Roast (Field Roast)
Vegan Nog (SoDelicious Coconut)
Green Beans
Cranberry Sauce
Vegan Butter
Rolls
Sweet potato
Spiced Cider (Trader Joe's)
Gift from Valley Grocery Outlet
Special Gift from Daiya
AND CHOICE OF DESSERT:
Gentle Pumpkin Pie (Recipe)
Daiya New York Style Cheesecake
Costco Apple Pie
Our Wonderful Sponsors!
 

 

Spokane Valley Grocery Outlet
Thank you to Huckleberry's, Animal Advocates & South Hill Trader Joe's for the financial support of this event!!!
Donations:
If you would like to donate towards the Tofurkey drive you can make a donation using our Paypal donation button. Each meal costs about $40/family of 4. We have most of our major costs covered so donations are not needed but if you would like to give, you may.
Donation Matching: This year we have had the Animal Advocates of the Inland Northwest offer to match all donations up to the first $250 so your donations will go even further this year!
Non-Profit Status: We are a 501c3 so all donations are tax deductible. Our 501c3 number is: 47-3146311

Sponsorship:
If you or your company would like to be a sponsor for this event please contact us at tofurkeydrive@kindliving.org. Last year about 75% of the costs of the event were covered by gracious local compassionate people. We expect this year to grow larger and so it would be nice to have additional financial support. Total costs of the event this year are expected to be about $3000. In exchange for financial support, INVEG will host your companies logo on the site for 3 months with a link to your company.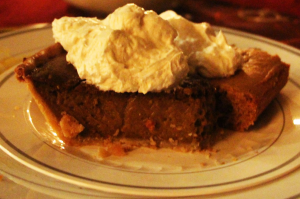 Pumpkin Pie!!! – We are again producing homemade vegan pumpkin pies this year. If people want to help Josh make pies, email him. We use The Gentle Chef's pumpkin pie as the base of our recipe. It is the most delicious pumpkin pie on earth!!! 🙂
RECIPE: Here is the recipe we developed over the years:
Photo Credit: Kona the turkey at Harvest Home Animal Sanctuary. You can learn more about him on his Facebook page: https://www.facebook.com/Konaturkey
Note: We chose to name this a Tofurkey drive instead of using the brand name Tofurky. We love Tofurky but we did not want to steal their trademark. We have no relation or connection to Tofurky.