2015 is the first year for Spokane VegFest to feature a music festival. This year we are bringing 6 of the best musical acts in the Inland Northwest to the all day event.  On top of music there will also be performing artists from across the US to share their talents between musical sets. This is one show you will not want to miss!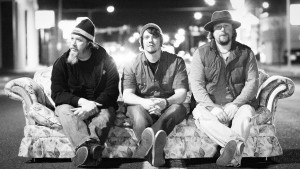 Dimestore Prophets is a three piece groove, rock, reggae band that is based in central Washington and has been together since 2009. Each player in Dimestore brings a unique influence and approach to the band. This combination has produced songs that are energetic and groovy and reach for the heart of the listener. The Dimestore Prophets style has been dubbed "Feel Good Music." So get out to a DSP show and feel good.
An acupuncturist by day, a singer/songwriter by night and weekends, Angela Marie is wowed by her current band. All songs are written by Angela Marie. Her songwriting is heavily influenced by the beauty of the Northwest, world travels, love, and the mystery of daily life.
With their electic blend of Reggae, Hip-Hop, Soul, Latin and Afro beat, Real Life Rockaz takes the stage at the second annual Vegfest. In the span of their five year career, RLR had the pleasure of opening for such acts as KyMani Marley, Collie Buddz, Gramps Morgan, Tribal Seeds, Rising Lion, The Green, and Equaleyes. Members Poncho Paul Flores, Juan Parris, Zac Fawcett, Daniel Harrington, Jimmie Denny, and Joel Gorman are ready to bring high energy to the stage that will get you pumped to experience peace, love joy, and to dance the night away.
The Shambhava Bhakti Band is a Pacific Northwest World Music and Kirtan fusion band, fusing the exotic instruments and soulful sounds of the East, with the classic rockin' beats of the West.
Shambhava features a talented group of experienced musicians including band leader Shawn Duffey on tabla, keyboards and vocals, Rachael Fairbanks, lead vocals and harmonium, Doug LaPlante, (Leon Russell) guitar and vocals, Sitar Joe Newnam, (Vince Welnick Grateful Dead) sitar and vocals, Konrad VanDeest, bass, and Lance Roethle, drums and percussion. They are also accompanied by the sweet harmonies and backing vocals of The Bhakti Bees.
Shambhava is…Good Vibrations music!
With a unique blend of baroque, psychedelic, goth rock, and straight up rock and roll, Mirror Mirror is comprised of singer/guitarist Jason Campbell, guitarist Travis Goldberg, bassist Ben Jennings, and Jeff Glinsky on drums. Mirror Mirror was first formed by Jason Campbell while living in Olympia, WA in 2009, and reformed the band when he moved back to Spokane in 2011. Since then, Mirror Mirror has been a staple in the Spokane music scene, including appearances at Inlanders Volume.
Free Whiskey is a five member acoustic ensemble who hails all throughout the Pacific North West and performed live throughout the Northwest region. They perform a variety of traditional Irish-Gaelic folk tunes as well as putting a Celtic spin on American rock classics, such as Jefferson Airplanes "White Rabbit". The fusion of such talents of Autumn Dryad, Maria Tart-Van Blaricum, Brad Calbick, Merri Schultz, and Wayne Curtis will get you off your seat and dancing long before the end of their set!
More details coming soon!
 Performing Artists
James
Koroni
James Koroni is a New York City-based actor, choreographer, dancer and improv comedian drawn to exploring physically diverse human experiences through idiosyncratic characters and haunting cultural contexts such as social justice, environmentalism and the evocative inquiry of animal rights. In 2010 he the founded Enforced Arch, the worlds first dance website dedicated to highlighting the work of various movement-artists pursuing social causes. Koroni produces, directs and performs in Enforced Arch Dance's movement and transmedia presentations, including ALLIANCE' Art and Activism', which toured internationally. He has taught at Broadway Dance Center's prestigious summer program, choreographed and danced for various music artists, including Madonna and Misterwives, and has appeared in various film, television and commercial projects. He has completed 12 multimedia concert dance pieces and produces a growing list of web-series. James has completed the improv comedy curriculum at The Pit, and is continuing his improv education at UCB as well as forming his own improv troupe.