Thank you for being part of Spokane VegFest: Health & Kind Living Festival. On this page, you'll find information on what to expect the day of the event. Please review the information and contact us with any questions by replying to this e-mail.
Location: Spokane Community College in the Lair – 1810 N Greene St, Spokane, WA 99217
Time: 10:00am – 6:00 pm
Loading in Time: 7am-9:30am
Google Maps Directions: https://goo.gl/maps/Hi7g4
2019 UPDATED LOADING/UNLOADING INFO:
The Campus has major construction going on in the parking lot of the building 6. This means that the event has been completely redesigned to accommodate this change. There are different loading instructions for indoor or outdoor vendors this year. Outdoor vendors will use the "Outdoor Vendor Loading Zone" to bring their goods to the outdoor vendor area. Indoor vendors will use the back entrance shown on the map off of Ermina Ave to come to the east entrance of the build. Accessing the old parking lot is difficult but you may park there if you would prefer. There is a small pedestrian area to walk to and from the back east entrance of the building.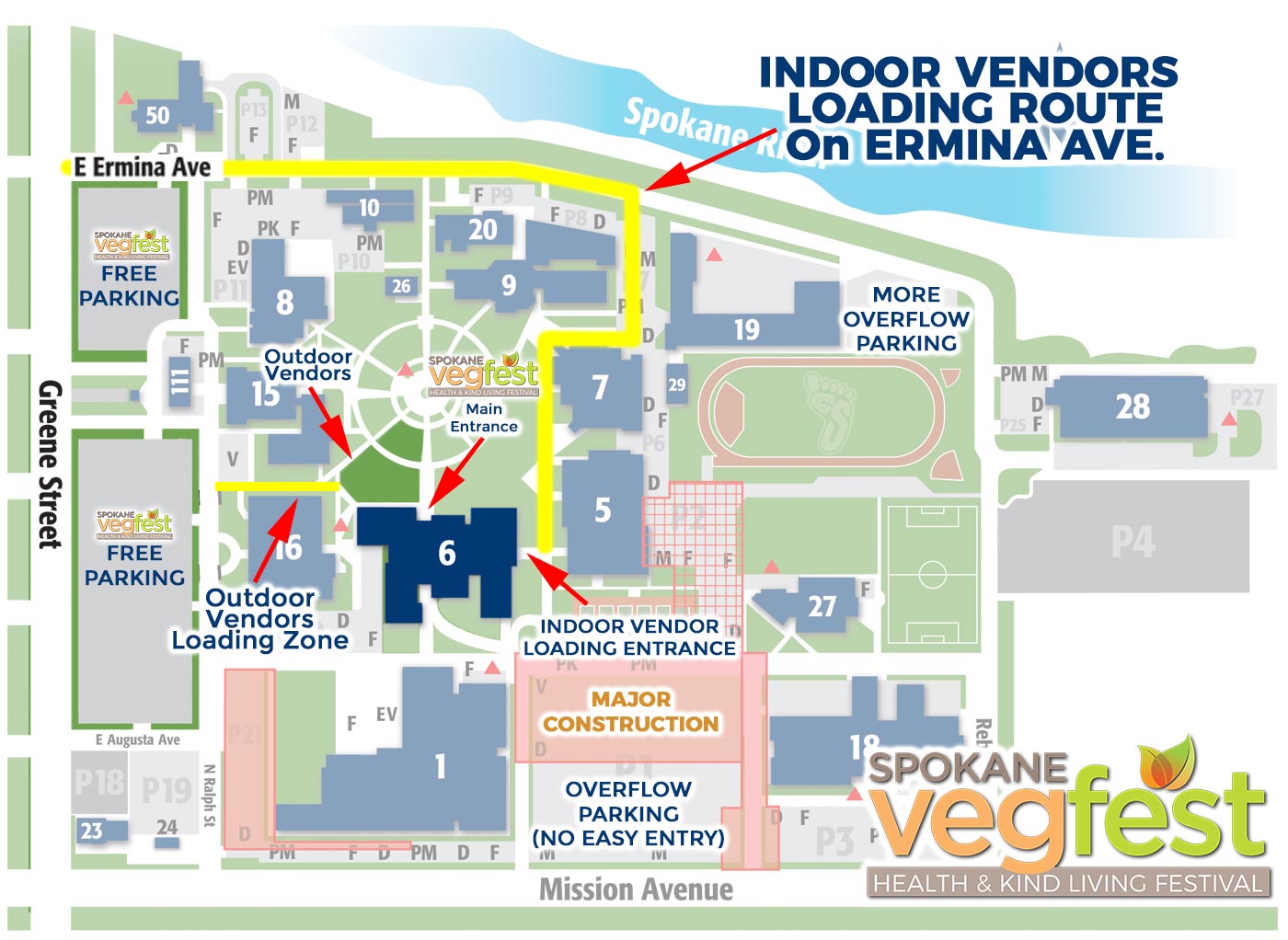 Parking:
Parking is noted on the map above. Please use the overflow parking lots if able to keep the main parking lot available to attendees.
Equipment: Every indoor vendor will have an 8 foot table and chairs provided, unless they elected to bring their own table. If you have requested to be near an electrical outlet we did our best to accommodate. Please bring both an extension cord and a power strip if you need more than one connection. The venue does not provide extension cords.
Outdoor Vendors are responsible for their table, chairs, canopy and anything else they would like to have in their booth.
Set-up: Please be ready to go by 9:30 a.m. Set up begins at 7 am. If you believe you'll need more than 2.5 hours for set-up, please contact us and we'll try to make arrangements.
Indoor Vendor Coordinator: Maria Vandervert is the coordinator. She is amazing and will be able to answer most questions. There will be an outdoor coordinator at the event too.
Booth Locations: We will have maps with the vendor locations printed, they will be available at the INVeg table up front.
Food Trucks: Food Trucks have a special location, please meet with one of the coordinators to be directed.
Volunteers: If you requested a representative, we will assign volunteers to you the day of the event. If you need to be in contact with your volunteer beforehand, please reply to this e-mail and we will connect you.
Hand Washing/Water: There are 2 sinks located in the back hallway. These can be used for hand washing and filling water pitchers. Cooking demo presenters get priority to this area. They are only to be used by the vendors/volunteers of the event. Attendees are not allowed in this back hallway.
Pets: We received special privileges for a select few organizations to have pets this year. Only those organizations that have talked with us are allowed to bring pets. Please contact us @ info@kindliving.org if you have questions.
Vendor Layout: Maps will be dispersed when you arrive.
Please let us know if you have any questions. We are here to help. Thank you very kindly for your support. We could not do this without all of you!