We are beginning a new project called the Kind Cooking Classes. They will take place on the 3rd Friday of each month at the Woman's Club Spokane at 5:30. Each night we will have local vegan chefs teaching us how to become more skilled in the kitchen. One focus is learning how to be more frugal with our food budgets. After we create the food there will be a potluck following each class. Everyone is always welcome so bring your friends and families. The Woman's Club will provide child care if any parents bring their kiddos.

Spokane Vegan Monthly Potlucks – SUNDAY Potlucks on hold.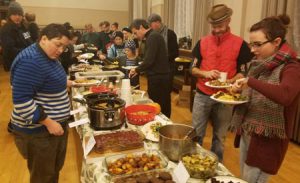 As of Jan 2020, we are taking a break from the Sunday potlucks after 7 years. Join us at the new Kind Cooking Classes on the 3rd Friday of the month and each class will be followed by with a potluck. 
Join us for our community potluck on the third Sunday of each month for delicious food and time to connect with others. We create these potlucks to provide a loving community and to introduce anyone who is veg-curious to all of the amazing varieties of plant-based foods. Everyone is always welcome. Potlucks start at 5pm. We highly recommend checking our calendar on this website or our subscribe to our events on our facebook page to be notified of our future INVeg community events. We have two locations for the potlucks depending on the time of year, Manito Park and Spokane Woman's club depending on the season(details below).
Spokane Woman's Club (October-May): During the school year we meet at the Spokane Woman's Club  which is located at 1428 West 9th Avenue on the south hill. There is free street parking around the event center. We want to mention that even though it is called a woman's club, Men are always welcome. The Woman's club is simply the name of the events center.
Events Calendar
(Next Potluck Should Be Listed)
Guest Speakers: After each potluck at the Woman's Club, we will feature a guest speaker on topics such as sprouting, nutrition, animal rights, cooking, and more. These events are FREE but we do accept donations to cover the rental fee for the room. To best stay updated on our potluck speakers, please find us on Facebook.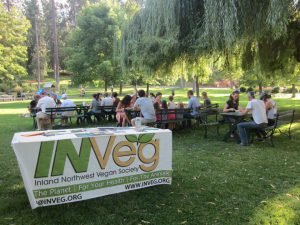 Manito Park During Summer(June-September): During the Summer we meet at Manito Park near the duck pond. There is no presentation after the potlucks during the summer. It is just a casual meeting where we get to know each other better and chat. The park events are very family friendly, so bring your children if you have them.
Who is this for?: EVERYONE! Everyone is always welcome to the INVeg Potlucks. If you are vegan, vegetarian or just veg-curous, you will love the variety of delicious entrees and desserts that the wonderful people ouf our community bring to the event.
What to bring?:
A plant-based food dish (everything

except

dairy, eggs, animal meat, gelatin, or honey)
Your own utensils, if possible (serving utensils, plate, fork, cup)
A list of your ingredients to display next to your dish. Please note common sensitivities such as Gluten, Soy, and Nuts.
If you feel inclined, a few copies of your recipe to share.
An Empty tummy. Many people forgo breakfast and lunch so they can overindulge at the monthly potluck. We have warned you 🙂 People often go back for 2nd and 3rds 🙂
Childcare: We do our best to offer childcare at many of the potlucks for the presentation portion of the evening, usually between 6-7pm. The cost is $5/child but we will not turn away anyone if they cannot afford it. IF you are wanting to be the childcare person at the events or know of a responsible adult who would like to please contact us. We need a list of available people so we have backups in the future.
Food: Every month the most delicious entrees and desserts show up at the event. This is a great way to experience more plant-powered foods. Veg-curous are always welcome.
Potluck Volunteering: We always welcome people to help with setup and break down at the potluck events. Each event takes about 1 hour to set up and break down. Jobs include moving tables, setting up chairs, placing the table cloths, filling the water pitcher and other things. The more people that help out, the easier they are. Thank you for your support.
A Few of The Previous Monthly Potluck Fliers

March 2014 Vegan Cheeese Demo by Tiffany Bartell
April 2014 Sprouting Demo
Jeff Breakey
July 2014 Fiddle on the Roof featuring Sean TEE & MAD
November 2014 Seitan Cooking Demo Brad Felix
 December 2014 Beagle Freedom Project  Jamie Badger
January 2015 Well-Bein' in 2015 Regina Merritt
February 2015
Pressure Cooking Demo
JL Fields
 March 2015
Gluten Free Baking
Alison Collins
April 2015
Washington Basset Rescue (WABR)
Photos from previous Potlucks