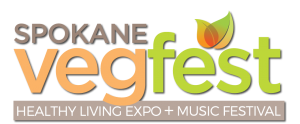 Contact: Josh Meckel FOR IMMEDIATE RELEASE
Email: josh@kindliving.org
Date: 07/06/2017
4th Annual Spokane VegFest at Spokane Community College on July 22nd
A Healthy Living Expo and Music Fest
Spokane VegFest is a free to the public healthy living expo focusing on food, the products we choose and the impact of dietary choices on the environment, animals and the human body. The event will feature cooking demonstrations and presentations from professional chefs, medical professionals, athletes and activists. The event will also feature live music, family friendly activities, free yoga classes, a wide variety of vendors and a kid's area. This year we have 6 speakers and 7 cooking demos including:
Jasmin Singer – Senior Editor of VegNews Magazine and Co-Founder of Our Hen House in Brooklyn, NY
Chef AJ – Professional Chef and weightloss coach from LA
Dr. Klaper MD. – Foremost authority on healing diabetes and applied plant-based nutrition.
Josh LaJaunie – Plant-based ultra distance athlete from Louisiana who lost over 200lbs by giving up animal products and learning about the power of plants
Colleen Poling RD – Plant based registered dietitian from Portland, OR
Joanne Kong – Expert on health and the environment from Virgina
Spokane VegFest is Saturday July 22nd at Spokane Community College, 1810 N Greene St, Spokane WA. The event goes from 10am – 6pm. Spokane VegFest is free and open to the public. Event parking is also free.
Spokane VegFest was established in 2014 as a way to bring awareness about healthy choices to the community. The event has grown larger each year, creating a deeper impact and reaching more people. The event is and always has been free to the public, and is a fantastic way to spend a summer Saturday. The importance of a plant-based diet to our health and our changing world is a valuable lesson for all ages.
About INVeg (pronounced in-veg, as in vegetable)
Spokane VegFest is put on by local non-profit INVeg. INVeg puts into practice the mission of VegFest year-round with monthly plant-based public potlucks, providing free information and mentorship services as well as providing a plant-based food drive for the Thanksgiving holiday. Everything INVeg does for the community is free of charge and in the spirit of creating a better world for all living things.
To learn more about INVeg and Spokane VegFest visit www.inveg.org.
###